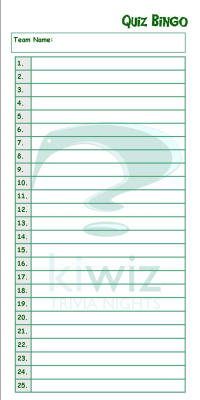 Kiwiz Bingo
Fed up with the same teams winning or want to try something different for a night?
If the same teams keep winning your quiz night, introduce an element of luck with our Kiwiz Bingo product.
This is a great product for an hour of fun.
The quiz master reads out 25 questions and teams write their answers on the self carbonating Kiwiz Bingo answer sheet.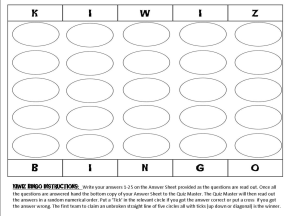 Teams hand in their duplicate copy.
The quizmaster then reads out the answers in the random order issued by us.
As soon as a team have a complete straight line vertically, horizontally or diagonally, they shout BINGO.
If all 5 answers are correct - they win!!!!
In the event of a tie or if no valid claims are made, the winners will be the team with the most correct in total or resort to our tried and trusted tiebreaker question(s).